LadyJai's Quilted PostCard Exchange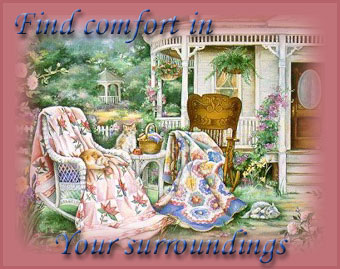 Following are the guidelines for the swap.
Instructions
for the postcard will also be posted for anyone interested in the idea but has never heard of it before. Don't forget to visit my
gallery
!
Deadline for signups: 15 MAR 06
Spring/Easter Postcard Exchange
Guidelines for Exchange #3:
Mailed Postcards should measure the standard 4x6 postcard size. They require a 39-cent stamp instead of the regular postcard rate. (The self adhesive stamps work very well as long as you press firmly over the entire stamp for a few seconds). Hand canceling is no longer required.

Postcards should NOT be mailed in an envelope. All postmarks and stamps should become part of the artwork.

All postcards should be mailed no later than <31 MAR 06>. You can mail in a batch or individually. It is up to you. Just as long as all have been mailed by <31 MAR 06>

The Theme for this exchange is "Easter/Spring". Your design could be Spring, Easter, Passover, or any other spring theme. The artist decides on the design, if each one is the same or different. It could be embroidered, quilted, painted, whatever the artist's desire. If you are thinking of embellishing your postcards, please keep to the flat embellishments. Remember, these will be going through the postal machines. We do not want them to get ruined, or ruin the postal machines. :P

Please do NOT use Sharpie Markers. These will eventually bleed and produce a brown halo around the writing. The best pen is one with pigment ink, such as a Pigma brand felt-tip or the permanent gel roller pens sold for scrapbooking.

Depending on the number of signups, I will section it off in groups of 6. You can sign up for more than one group, but please do not sign up for more than you can handle. If you fail to meet your promise, I will add your name to a list and you will not be able to sign up for another swap with me.

HAVE FUN!
Please print these instructions for future reference.
Please contact me for signups (I will need your contact information) or if you have any questions.